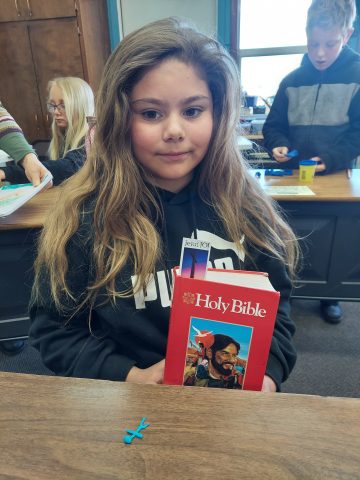 Our Motto: LOVE - PREPARE - SERVE
Our Location:  1/2 mile east of Goldendale, WA
Our Clientele:  Kindergarten through 8th grade 
Our Purpose: To serve families who wish a Christian learning environment for their children
Our Mission: It is our mission to equip and challenge each student to reach his or her potential: spiritually, academically, socially, and physically. As a community of parents, students, and teachers, in cooperation with Christ, we seek to learn through scripture and nature God's revelation of Himself. Our greatest desire is to impact our world through a lifestyle of unselfish service to others.
It is Our Desire: 
That each student will grow to value his or her own unique gifts and will develop an effective approach to life.  That each student will possess a strong curiosity and an eagerness to continue learning throughout life.  That each will find his or her worth as a son or daughter of God and will use God's blessings in service to each other; in the classroom, on the playground, and within their own family, church, community, and world.
Growing spiritually
We exist to help students grow in their love for Jesus. While spiritual growth can't be measured and quantified with numbers, we do see it happening every day. It starts with our commitment to making Christ the center of all we do––not just the subject of a single Bible class. And it continues through our focus on the Bible as the sole guide for our beliefs and behavior as Protestant Christians. We invite you to visit our campus and experience how our teachers and staff model their love for God and nurture it in our students.
Growing academically
Students in Adventist schools outperform. In a three-year study of 51,000+ students in Adventist schools (kindergarten through high school), researchers documented that they outperformed the national average.  At all grade levels. In schools of all sizes. And in all subjects.
Students in Adventist schools overachieve. Additionally, researchers compared student performance on standardized tests with what would be predicted based on their Cognitive Abilities Test scores, and found they performed above what would be predicted.
Students in Adventist schools gain even more with time. One of the most dramatic findings is that students who transferred to Adventist schools saw a marked improvement in test scores. Furthermore, the longer students are in Adventist schools, the better their achievements and abilities.
Growing physically
Making healthy choices is a way of honoring our bodies as the temple of the Holy Spirit (1 Corinthians 6:19). And plenty of research documents the importance of healthy bodies in developing healthy brains. So we include learning about taking care of our bodies with daily exercise, good sleep, healthy eating, and more. To see how we integrate wise lifestyle choices into our curricula, come visit our campus.
Growing socially
Loving and serving others is part of God's plan for each of us and something we practice daily.  As we interact with each other here at school and as we practice service in our community, we are guided by Paul's words, "Be completely humble and gentle; be patient, bearing with one another in love." (Ephesians 4:2) While we are not perfect, we are constantly aiming to be more Christ-like with each other and to serve our community.  Come see how this influences our students with a visit to our campus.